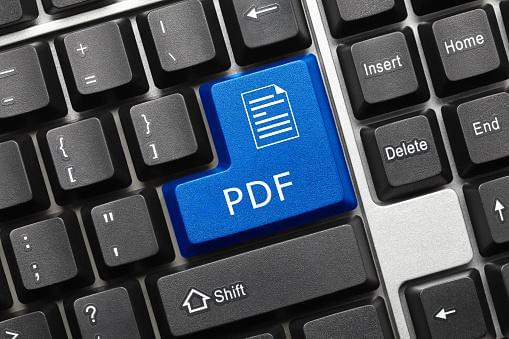 In today's business environment, well, today in general, there aren't very many people who still use paper-based processes for managing their documents. If you're still one of them, pay close attention to this article. We're going to go over some tools you can use to make your life a whole lot easier.
Typically, people will use Word documents or PDF files when working and collaborating online. However, Portable Document Format (PDF) is by far the most preferred way to professionally correspond with official and unofficial content.
Convert Word to PDF for a better, more efficient way to work online and share content with others.
Why
change Word to PDF
?
Basically, when you have a file in Portable Document Format you get a document that's easier to send, work on, and share compared to a Word document. Find dozens of online tools, mobile applications, and software for working with PDFs. Take a look below at our list of 4 reasons why converting Word to PDF is a good choice if you want an easier way to work on and share documents.
Cross-platform formatting

Choose the option that best benefits your recipients. PDFs are cross-platform compatible, meaning they're easy to receive no matter the OS or the device.

Data compliance and security

Protect your information with a format that's easy to password protect, watermark, and restrict access to. Formats that promote data compliance and security are more popular amongst larger institutions.

Highly-modifiable

Edit freely, knowing that the format of your document nor the OS you're working in will hold you back or create bottlenecks. PDFs are highly modifiable when you have the right tools, making it easy to get you and your recipients exactly what's needed.

Mobile-friendly

Use the most widely accepted way to look at documents on mobile. Users often find themselves in need to change Word to PDF while on the go. Being able to manage documents while moving around is a huge plus.
The best solution for
converting Word to PDF
The question you need to be asking yourself is, 'what is the best tool for converting my documents in a fast, affordable, and professional way?' When selecting a solution, keep a few things in mind; how easy is it to use?; How fast does it work?; How many people already use and trust it?; etc. If each one of those points is important for you, then check out our converting solution to change Word to PDF. It has everything you need, in the most convenient way.
Easy to navigate
Browse the tool's interface and see how simple and straightforward it is. Each button is labeled with a clear explanation of what it does and each step of the process is easy to follow.
For example, take a look at the orange button below. It's big and what it's for is written out in a very clear way.

Top-notch data encryption
Protect the information inside your files in accordance with the latest security standards. Once your file has been converted, it and all the information it contains is removed from the server.
Fast
Get your documents converted in seconds. Every document you upload can be processed in a matter of seconds, so long as you have a stable connection to the internet.
Multi-platform compatibility
Transform formats from any device or operating system. Being able to change Word to PDF even while on the go and no matter if it's on Windows or macOS is a huge plus.
Full-featured PDF editor
Edit your files to create professional PDFs right after converting them. Erase, highlight, blackout, text, redline, insert images and fillable fields, add comments, etc. The ability to do more than just convert is a major advantage for anyone who needs to share information with others.

How to transform a
Word document to PDF
No matter how many documents you need to convert, our platform is ready to help. There's no need to download or install it. It's web-based and readily available on mobile or desktop.
Follow these simple steps to get your files converted in just a few clicks:
Go to convert-word-to-pdf-online.com.

Import the Word doc you want to transform from your device or the cloud.

Press

Done

.

Select

Save Document as PDF

from the list of options.

Select

Start over again

to repeat the process with another document.

Send the file via email or other options suggested.
In addition to converting and editing your document, benefit from additional features like e-signature and e-notarization.
Join the millions of others who've already said yes to Word doc to PDF converter for converting their files to Portable Document Format. Try it now and benefit too!